The City of Arts and Sciences is a work of art of the Valencian architect Santiago Calatrava. This architect has opted to build several buildings, all of them symbols of the city.   This place is located on the banks of the old Turia River and brings together scientific and artistic centers.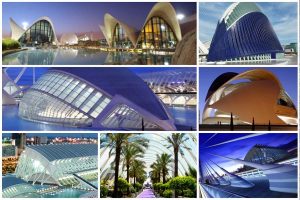 For example,
Europe's largest oceanarium with 500 species and some rare, including belugas. It is designed by Felix Candella.
The hemisphere, the latter is a 3-D cinema whose ceiling is the screen, measuring 900 meters. The films are projected every day, most of them are of educational character and with a duration not more than 45 minutes.
Príncipe Felipe Science Museum. Unlike the other museums, in this one you can touch, feel and even think. In fact, the museum has counted on interactive and technological exhibitions.
The Palace of the Arts Reina Sofia. This palace includes operas, concerts, zarzuelas and ballet shows. It is a very musical place to visit.
The Umbrácle is a giant terrace open to the sky and in the form of a greenhouse. The palm trees bring nature to this modern environment. Club Mya's terrace is open in summer and allows you to enjoy the nights under the stars.
The Agora is a room that allows to hold private events.
The Bridge of Assult d'Or is a bridge that represents the history of the park, ie the passage of the river. Pedestrians can walk through it by observing both sides of the Turia garden.
As you may have understood, it is a unique place that represents the city and makes it iconic. If you want more information about the City of Arts and sciences follow us on social networks.